FUN FLIGHT KAKADU
30 Min Flight from Jabiru
Flights scheduled on the hour between 0800-1600 daily ONLY from Jabiru.
Dry Season Route.
Ancient escarpments, winding rivers, spectacular 1.8 billion years of continuous erosion, billabongs, flood plains. View the Archway, Arnhem Land Escarpment's, East Alligator Valley, Mikinj Valley Billabongs and Magela Floodplains.

Adult: $150 Child $120
---
KAKADU DISCOVERY FLIGHT
One Hour Wet Season Discovery from Jabiru
Fly past the Ranger Uranium Mine, across Mt Brockman and along the escarpment to Lightning Dreaming. View the beautiful Double Falls.
Adult $250 Child $200
---
HELICOPTER - THE ULTIMATE SCENIC 
From Jabiru Airport
Take in the wonders of the World Heritage-listed Kakadu National Park on a heli-flight. Choose a 20, 30, 45 or 60 minute flight. View age old Escarpment rock formations.
Prices start from $245 Adult/Child
---
ONE HOUR SUNSET SPECTACULAR FLIGHT
From Jabiru & Cooinda
View the sunset and stunning views of the escarpments lit up in amazing red hues as the falling sun heads towards the horizon. View the Arnhem Land Plateau.
Adult $250 Child $200
---
 KAKADU KALEIDOSCOPE SPECTACULAR
60 Minute Flight from Cooinda
There is an awesome variation in land forms, quite different to those close to Jabiru. Cooinda is located near the south Alligator River, adjacent to Yellow Water billabong.
Adult: $250 Child $200
---
---
KAKADU IN A DAY - Fly to Kakadu, Cruise, return flight to Darwin
Cost: $750.00 AUD Per Person - Code C1

Departures: DAILY from the Kakadu Air Terminal 2 Slade Court, Eaton NT 0820 (Darwin Airport).
Check in 0830, Departure 0900, Return 1600. Minimum 2 pax required to confirm.
Kakadu Air Terminal 2 Slade Court, Eaton NT 0820 (Darwin Airport). Check in 0845, Departure 0930, Return 1600. Minimum 2 pax.
Price Includes: Scenic flight(s) to/from Kakadu, Yellow Waters Cruise, park entry fee and a visit to the Warradjun Aboriginal Culture Centre (free to public).
Price does not include: Lunch, Personal items, transport to/from Darwin Airport.
Description: Scenic air adventure. Kakadu – Warradjun Culture Centre – Yellow Water Cruise. This iconic tour is ideal for the time poor, especially when considering the long distances involved. Of course the bonus of aircraft travel is not just limited to saving time, it's really about the extraordinary views of the Arafura Coast - vast floodplains - winding rivers, stunning Arnhem Land Plateau, but also to have adequate time on ground to lunch at Cooinda, visit an Aboriginal Visitor Centre and cruise on Kakadu's MUST DO Yellow Water, and still be back in Darwin for late afternoon and evening activities.
This scenic air tour is the perfect lazy visit to Kakadu. With over two hours of spectacular aerial sightseeing. Outbound is the extended flight tracking first over Adelaide River , then Mary River, then Kakadu's West, South & East Alligator Rivers. All rivers wind a confused path across the flatlands, coastal mangroves hold back massive floodplains in the wet, some dry, and others retain water in the dry season, resulting in variations of vegetation and a kaleidoscope of colour.
The Arnhem Land Plateau stands proud on the Eastern side of Kakadu, its 1.6 billion year age illustrated by the amazing erosion; its simply stunning.
We land at Cooinda and visit the Warradjun Aboriginal Visitor Centre, lunch, and crusie Yellow Water before returning to Darwin.
The shorter return flight first discovers the upper South Alligator River and flood plains before tracking towards Darwin. A growing number of 5 acre rural residential blocks, the the sprawling cities of Palmerston and Darwin welcome us back usually before 4pm.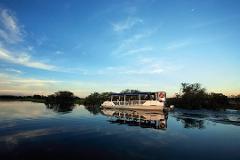 Join Kakadu's scenic specialists with Kakadu in Day. This tour is designed to show off the best of Kakadu & includes scenic flights to/from Kakadu, Yellow Water Cruise, a visit to Warradjan Aboriginal Cultural Centre & park entry fees.
Duration: 9 Hours (approx.)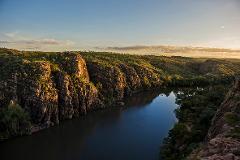 This tour is designed to show off the best of Katherine in one day! This tour includes scenic flight(s) to/from Katherine, Nitmiluk (Katherine) Gorge Cruise, a visit to an art and cultural centre and lunch.
Check in 7;30 for an 8:00am departure,returning to Darwin approx 5:00Pm
Duration: 9 Hours (approx.)
---
View the Magela George and Dinosaur Valley in a helicopter.
Duration: 20 Minutes (approx.)
This Helicopter flight is the super circuit! We combine the highlights of Kakadu into one super scenic flight.
Duration: 20 Minutes (approx.)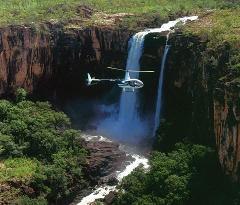 The Ultimate wet season scenic flight to the Waterfalls. This ultimate flying experience is only available December - May
Duration: 60 Minutes (approx.)
Phone for any queries or send a message on a contact form. We will get back to you as quick as possible.
Browse the website to book accommodation, tours and transport to / from Jabiru.